Welcome to the Supplies Page for Fit 2020! There are many options for tracking and documenting your year using the printable/digital supplies. Below are some options you may want to consider. I encourage you to use albums you may have on hand, or other materials you already own. I will point out a few items you may like for the purpose of tracking in your albums, planners, travelers notebooks or even bullet journals.
Note: I am using affiliate links below. These are only provided as a convenience and cost nothing for you to use. I receive a small commission from each sale which in turn helps me to keep the costs of CZ Classes affordable. Keep in mind, the only thing you really  need is some paper to print out whatever materials you choose to use! These are just suggestions!
I have two stamp sets from my CZ Design collection at Simon Says Stamp designed for tracking, a 4 x 6 set and a 3 x 4 icon set: click on images to see in the Simon store
These are clear stamps and require an acrylic block for use.
Here are some more general supplies that are optional for this class.
BASIC ALBUM SUPPLIES: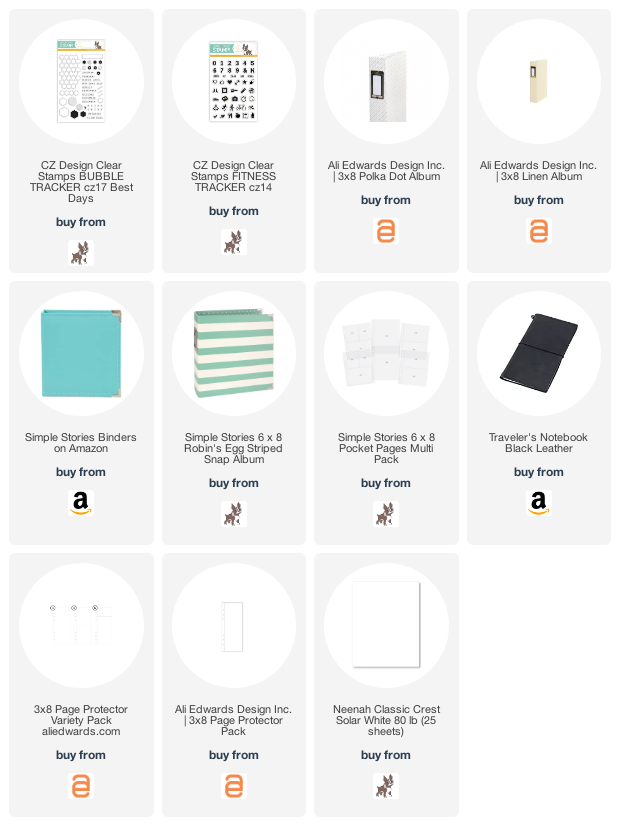 OTHER SUPPLIES/TOOLS I FIND USEFUL: